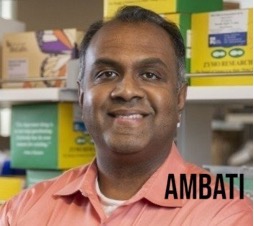 Over 1,000 individuals tuned in to the July Evening Webinar or watched a recording of the presentation given by Dr. Bala Ambati MD, PhD, of Pacific ClearVision Institute in Oregon, and President and founder of iVeena Delivery Systems of Salt Lake City.
Dr. Ambati is a renowned cornea researcher with several decades of innovations to his credit. He shared with the audience that, about seven years ago, he envisioned a pharmacologic solution for keratoconus and started work on the project.
He studied the differences in biochemistry and biomechanics between an eye affected by keratoconus and a 'normal' eye and determined that those with keratoconus had decreased amounts of the protein Lysol oxidase (LOX). An eyedrop that restored a more normal level of LOX might strengthen weak corneas. He started iVeena Delivery Systems to formulate eyedrops which he called IVMed-80.

During the webinar, Dr. Ambati described years of research from initial cellular experiments that took place in a petri dish to the most recent clinical trial where thirty-six individuals with keratoconus were enrolled in three study arms. One group received a placebo therapy, the second was given the IVMed-80 eyedrops twice a day for six weeks, and the third group received eyedrops twice a day for sixteen weeks.
He reported that patients who took the drops for 16 weeks showed flattening of the cornea similar to the result after crosslinking.
Study subjects were followed for several months and the changes to the cornea appear persistent. There was also unexpected improvement in vision and no reported adverse events. Patients who completed the six week course experienced noticeable but temporary changes.
Dr Ambati reported that a new clinical trial enrolling 600 subjects is in the planning stages and will begin will later this year. Study participants will be followed for at least a year after eyedrop treatments. The results of this large clinical study will be submitted to the FDA. If approved, IVMed-80 may be available by prescription sometime in 2027. You can watch the video of this presentation here.
Breaking News: Announced August 24, 2022 iVeena has licensed IVMED-80 to the medical technology and device company Glaukos. All development activities for IVMED-80, including clinical trials, are now being conducted by Glaukos. Dr. Ambati shared the news and announced "We're excited to have reached this agreement with Glaukos and we believe this will benefit keratoconus patients with a clear pathway for future development."